(This article only applies to companies hiring in Japan.
If you are hiring in Singapore or Hong Kong, please access this article.)
Learn how to navigate your Company Admin page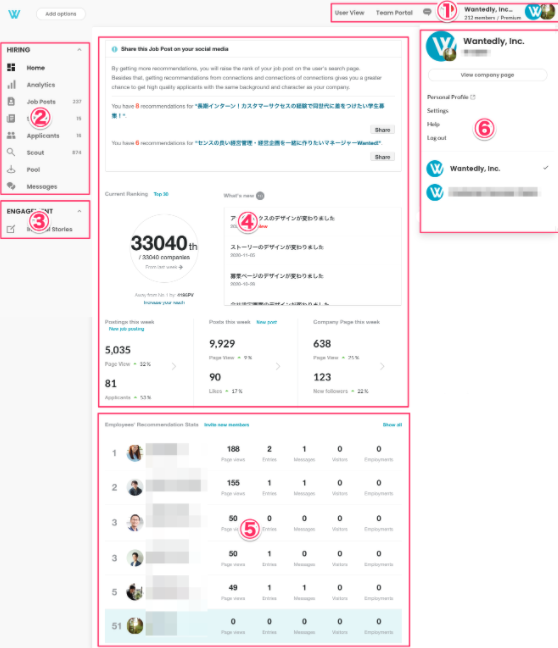 1. Navigate your account
- Team Portal: brings you to your team's portal where you can read internal stories. Learn more here.
- User View: allows you to switch to your personal account. When changing your profile or email address, please do so from your personal account. Learn more here.
2. Publish content and communicate with candidates
- Job Posts: create new Job Posts or edit existing ones. Learn more here.
- Stories: create new Stories or edit existing ones. Learn more here.
- Analytics: analyze the data relating to your Job Posts and Stories. Learn more here.
- Applicants: manage your candidates. Learn more here.
- Messages: communicate and organize your candidates. Learn more here.
- Scout: send scout messages directly to possible candidates. Learn more here.
3. Manage employee engagement
- Only companies in Japan on paid plans can use the engagement function. You can learn more about internal stories here.
4. Check your company ranking and recommendations
- Increasing your applications affects what part of the page your Job Post will be shown. The more applications your Job Post receives, the higher the Job Post will be.
- Company rankings are based on PVs on a Job Post ((f there are several Job Posts, the one with the most PVs) from 7 days before to the day before the ranking is released.
- To increase your ranking, you must increase your applications and increase your registered employees. Especially by increasing employees linked through Facebook, it is easier to reach their friend groups and therefore a larger audience.
- Wantedly platform changes and releases are also published in this section.
5. Employee Recommendation status
- Shows what employees shared information, and how many reactions they received.
- Employee recommendation statuses are ordered by employees with the most PVs, applications, messages, meetups, and number of people hired.
6. Options Menu
- Click on your icon in the upper-right corner to access your account settings and company page.
- From here you can confirm and edit your:
Subscription details/payment details
Employees
Company Page
- You can also switch between personal/company accounts and logout from this menu.