How to edit your company page:
1. Access your company Admin dashboard
2. Select your icon from the upper-right-hand corner, and click on 'View company page'
What information can be added to your Company Page
You can add the following information to your company page:
- Mission
- Highlighted posts
- Values
- Members
- Job Posts
- Company information
Mission
Use this space to communicate to candidates what your company aspires to achieve.
(Character limit: 255 characters)

Highlighted posts
Up to 3 Stories can be posted on your Company Page.
The default settings will pick your most recent posts, but you can also select which posts you'd like to show by clicking on the edit button located in the upper-right area.
Values
Tell candidates what your company values.
You can choose up to 6 values from over 40 of our selectable values and explain in detail why the value represents your company.
(Character limit: 255 characters)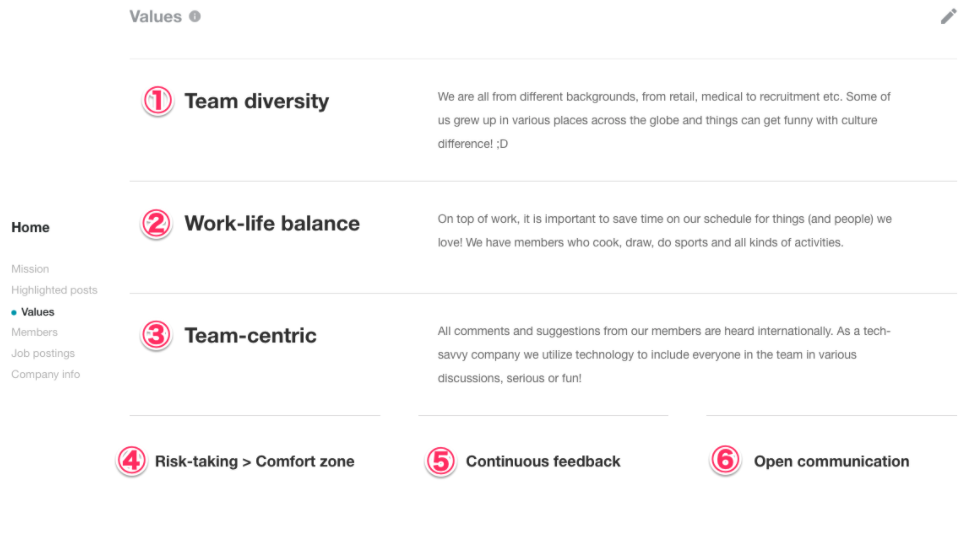 *You can add or edit values by selecting the
button in the upper-right corner.
* From the edit values page, you can change the order of values by clicking on the number before a value, and dragging/dropping the value.
Members
Add your members in this section.
To learn more on how to add members to your company, access this link.
Job Posts
Job Posts are displayed with the first 10 job posts (from newest to oldest) as the same occupation as the reader's occupation. If a company does not have a Job Post with the same occupation as the reader, the most recent Job Posts will be shown, regardless of occupation.
*You cannot select what Job Posts to be shown on the Company Page.