Users who apply to companies with complete profiles are much more likely than those who do not have complete profiles to receive a message back. We highly recommend taking some time to make sure your profile is complete!
*Changes made to your profile are automatically saved.
1. Setting up basic information

- Profile picture: Your photo should not be a formal ID. Try and add a picture that represents you well!
2. Write an introduction
- Introduction: In the Introduction section, write a phrase or quote that inspires you as well as a brief summary of who you are! Our Natalie has written "Be true to who you are" as a phrase that inspires her.
3. Write about your ambitions

- Ambition: At Wantedly, we value ambitions. Since we connect companies and individuals based on shared passion, the ambition section is important in showing what you are passionate about!
4. Fill out the details!!
You can add your experiences by following these steps:
1. Click on 'Add to Profile' in the upper-right-hand corner to add experiences
2. Select what you would like to add to your profile!
The three types of information you can add to your profile can be separated into:
- Experience/Education: Add your education and work experiences.
- Media/Targets achieved/Publications:
L Photo/Video: Add photos and videos of your work
L Targets achieved: Add key metrics you've reached
L Publications/writings: Add links to documents, publications, or web articles you have written.
- Awards/Certifications: Add any awards or certifications you've won!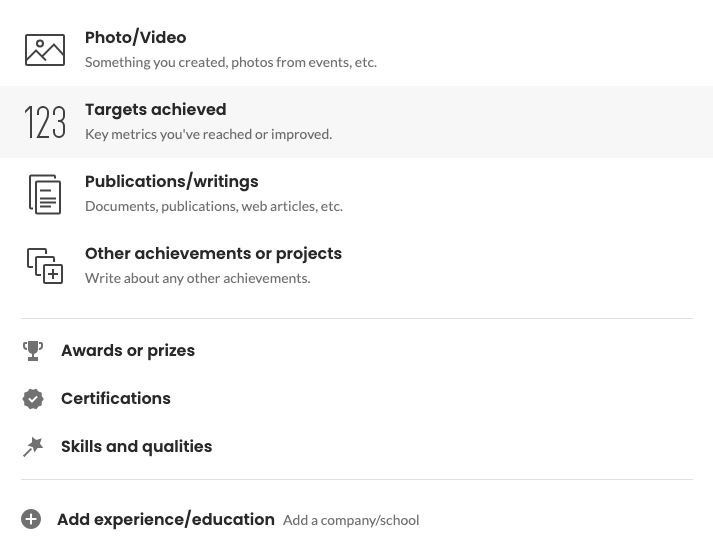 5. Add your resume to your profile
Lastly, you can upload your resume to your profile by selecting 'PDF File upload' from the right-hand side of your profile. Please note that resumes can only be uploaded via PC Web. (*Recommended browser: Chrome)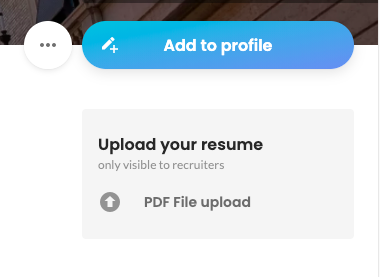 If you have any questions, please contact the Wantedly Customer Relations Team here!