Wantedly is a service that aims to help you find a job that you genuinely love.
Rather than match you with your next company based on salary or benefits, we match you based on vision and values instead.
A quick snapshot of a job posting on Wantedly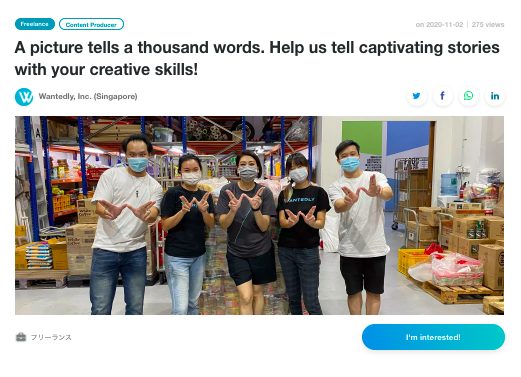 1. Check out your potential future colleagues
Companies are made up of people! So we believe it's pretty important to know who you will be working with before you join. Job Posts on Wantedly list the profiles of your potential future colleagues, so you can get an idea of who they are before you decide to apply.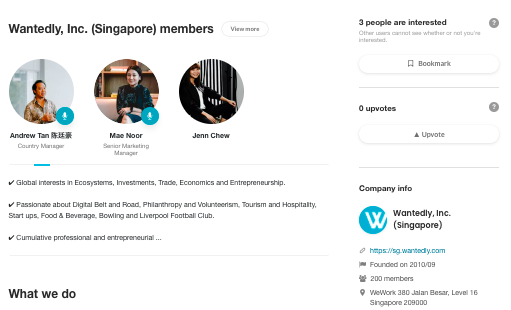 2. Know the company
Rather than a standard company profile that focuses on requirements and responsibilities, companies on Wantedly write about their goals, visions, and values so you can choose a company that you can be passionate about.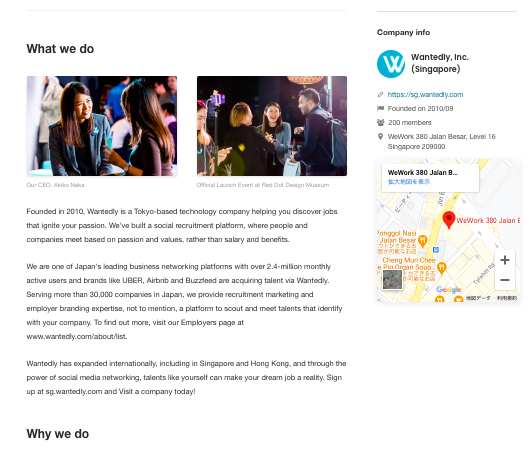 3. The position
Here you can read about what kind of role this job posting is describing. There will be no mention of salary or benefits in this description, so you can make a choice based on shared passions.

I'm interested!
Wantedly allows you to casually chat with the company you're interested in. During this visit, you can chat with potential employers to see if you match with each other. If you do, you can take the next step!

All job postings have an 'I'm interested!' button. If you want to talk with a company, click away!